| | |
| --- | --- |
| Browse Profile | HOD Civil Engineering |
| Name | Prof. Sanjaya Kumar Patro |
| Designation | Professor & Head |
| Email | head_civil@vssut.ac.in |
| Phone | +91-663-2430591 |
The Department of Civil Engineering has been in existence since the inception of VSSUT, BURLA in 1956 and is producing high quality technical manpower needed by industry, R&D organizations, and academic institutions. The departmental activities embrace Planning, Design, Construction and Management. The department is AICTE accredited for 5 years from 2006. With the extension of U.G.C. sponsored academic autonomy to the institute upto 2012, the syllabi of the department has tremendously augmented with many advanced courses.The Department offers B.Tech degree in Civil Engineering and M.Tech. degree in Civil Engineering with five specializations, i.e., Structural Engineering, Water Resources Engineering and Transportation Engineering and Ph.D degrees.

The academic activities of the Department emphasizes deep understanding of fundamental principles, development of creative ability to handle the challenges of Civil Engineering, and the analytical ability to solve problems which are interdisciplinary in nature. The Department also encourages its students to engage in extra-curricular and co-curricular activities, essential for development, nurturing of team spirit, and developing organizational skills. The faculty members of the department are involved in high quality research and consultancy activities, and they continue to enjoy academic leadership role in the state and the country. Many of the faculty members have received advanced degrees and/or training from reputed institutions in India and abroad. Many of our alumni hold prestigious positions in leading academic institutions, industry and government in different countries all over the world.

Vision
To emerge as an internationally acclaimed Civil Engineering Department for imparting futuristic technical education and creation of vibrant research enterprise to create quality civil engineering and researchers, truly world class leaders and unleash technological innovations to serve the global society and improve the quality of life.

Mission
The Department of Civil Engineering, VSSUT, Burla strives to create values and ethics in its products by inculcating depth and intensity in its education standards and need based research throughout
Participative learning in a cross­cultural environment that promotes the learning beyond the class room.
Collaborative partnership with industries and academia within and outside the country in learning and research.
Encouraging innovative research and consultancy through the active participation and involvement of all faculty members.
Facilitating technology transfer, innovation and economic development to flow as natural results of research where ever appropriate.
Expanding curricula to cater broader perspectives.
Creation of service opportunities for upliftment of the society at large.
PROGRAM EDUCATIONAL OBJECTIVES (PEOs) FOR B. TECH PROGRAMME
PEO 1: To lead a successful career in industries or pursue higher studies or entrepreneurial endeavours.
PEO II: To offer techno¬commercially feasible and socially acceptable solutions to real life engineering problems
PEOIII: To demonstrate effective communication skill, professional attitude and a desire to learn

PROGRAMME OUTCOMES (POs)
a. Ability to apply knowledge of mathematics, science and engineering to solve complex problems in civil engineering
b. Ability to identify, formulate, and solve complex civil engineering problems using first principle of mathematics, basic science & engineering
c. Ability to design, implement & evaluate civil engineering projects to meet societal and environmental needs.
d. Ability to design and conduct complex civil engineering experiments as well as to
analyze and interpret the experimental data.
e. Ability to use the techniques, skills, and modern engineering tools necessary for
relevant engineering practices.
f. Ability to assess impact of contemporary social issues on professional practice.
g. Ability to recognize the sustainability and environmental impact of the engineering
solutions.
h. Ability to follow prescribed norms, responsibilities and ethics in engineering practices.
i. Ability to work effectively as an individual and in a team.
j. Ability to communicate effectively through oral, written and pictorial means with
engineering community and the society at large.
k. Ability to recognize the need for and to engage in life­long learning.
l. Ability to understand and apply engineering and management principles in executing
project.

Scope of Civil Engineering
Civil Engineering deals with engineered constructions, their planning, design, construction and management. The profession comprises of many disciplines like Structural Engineering, Geotechnical Engineering, Water Resources Engineering, Transportation Engineering and Surveying. In any activity ranging from defence and industrial development to social welfare and economic growth, it has the largest quantum of resource allocation and utilization.

Recognizing the rapid, extensive and emerging developments in Civil Engineering, the degree programme includes Computer Aided Analysis and Design and Remote Sensing besides an integrated and systematic foundation in Physical and Engineering Sciences like solid, fluid and soil mechanics, Materials, Graphics and Surveying. The sequential provision of subjects develops the engineering methodology and practice as applied to planning, design and construction of buildings, bridges, hydraulic structures, environmental systems, transportation systems and others. The programme instills in the students a professional approach through project work and practical training during vacations. As the student progresses with his studies, he graduates from theoretical analysis to problem-solving, designing and filed applications.

CIVIL ENGINEERS CREATE THE QUALITY OF LIFE
Have you ever pondered the infra-structural elements of modern society that make life attractive, convenient, and comfortable? Enjoying spacious and comfortable living in a building, or an underground enclave; driving from a given location to virtually any region in the continent; and having plenty of clean water available for any domestic use we desire are some of the examples that the Civil engineering profession offer today. The building is designed by a Civil engineers by conveying an array of structural elements that support the architectural spatial distribution. The highway is designed by a Civil engineer by creating a plane that adequately supports the weight and stresses of the vehicles in motion and of the centrifugal forces at the curves. The water resources system is designed by a Civil engineer that arranges for the water intake at an appropriate source, a water conveyance set that transports the water to a water treatment plant, and a waster distribution network that delivers the sanitized water to the urban user. Many modern Civil engineering works are subtle features we take for granted. Think for a moment about the waste waters no longer needed by the domestic or industrial user. Where do they go? In past centuries they were discarded on the urban streets thus becoming the focus of many diseases. Today the Civil engineer designs a waste water disposal and waste water treatment system that drains the used water away from the city user, treats it to stabilize the pathogen-carriers and hazardous organic substances, and safely disposes it into an appropriate recipient without adversely harming the river's natural fauna or flora. How about garbage? Consider the complex problem of disposing vast amounts of solid waste produced by modern consumption society in safe, isolated, and underground systems that would prevent the leaching of dissolved toxic waste from reaching groundwater reservoirs. Many of these large scale facilities constitute solutions to the consequences of today's life style. This is why civil engineers create the quality of life.

CIVIL ENGINEERS ARE THE ENGINES OF PEACE AND PROGRESS
During times of peace, much of national public resources are oriented towards civil works. Remember the economic development after the last great war, or observe the emphasis placed on Civil engineering infra-structure in any nation immediately after a war. The priorities are clear: water sanitation and distribution, transportation, residential and commercial building, and energy distribution. Civil engineers are the main players of progress during peaceful times. Furthermore, we may affirm that Civil engineers design and build the fundamental works and systems on which economic development depends.

MESSAGE OF HOD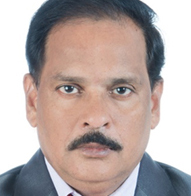 Prof. Amar Nath Nayak
Professor & Head.
Ph: +91-663-2430591(O), Cell: +91- 9861238403, Email Id: nayakan1964@gmail.com
The Department of Civil Engineering of VSSUT, BURLA has left her foot prints in the history of this premier college which completed its 58 glorious years in the arena of technical education of the state as well as in the country. The devoted teachers of the department have left the legacy of work culture with a team spirit. The benchmark in quality teaching, academic discipline, research and consultancy, set with hard work, is highly appreciated by the National Board of Accreditation Team – 2006 of AICTE, New Delhi visited to this institute and accreditation report with highest score speaks for the department.

The alumnae of this department presently hold various important positions in the industry, state and central governments, and national and international academic and research institutions. Our students have been highly acclaimed by the selection committee of prestigious Companies. The last two years and ongoing placement, particularly in the last year (2007) with 100% placement, speaks of our quality products.

This department generates highest revenue for the institute through various major consultancy projects from Government, Public Sector Undertakings and Private Industries along with normal testing of civil engineering materials. This department also acts as nodal centres as State Technical Agency (STA) for PMGSY works under Ministry of Rural Development, Govt. of India and State Resource Institute (SRI) for National Programme on Capacity Building of Engineers in Earthquake Risk Management (NPCBEERM) under the Ministry of Home Affairs, Govt. of India.

The overall growth of the department in various fronts is possible due to synergetic efforts of highly qualified faculty and laboratory instructors. The continual upgrading of various laboratories of the department with modern computational facilities has made our department distinct in the eastern part of India.

The faculty, staff and students of the department make things happen for which I feel proud and privileged to dream to take this department to a new height.
CONTACT FOR FURTHER DETAILS
Professor & Head
Civil Engineering Department
VEER SURENDRA SAI UNIVERSITY OF TECHNOLOGY, Burla, Odisha (INDIA)
P.O. Engg. College, BURLA, Dist: Sambalpur
P.S.: BURLA, ORISSA, India, PIN: 768018
Phone:0663-2430591(O),
FAX: 0663-2430204
Email:
nayakan1964@gmail.com